a. Materials synthesis: Mai group has developed low-cost synthesis of high-performance 1D metal oxide nanomaterials technology, such as the combination of flow phase reaction and self-assembly to synthetize 1D nanomaterials, laid a foundation for the development and application of the 1D nanomaterial.
Key paper:
Mai, Liqiang; Hu, Bin; Chen, Wen; Qi, Yanyuan; Lao, Changshi; Yang, Rusen; Dai, Ying; Wang, Zhong Lin,"Lithiated MoO3 nanobelts with greatly improved performance for lithium batteries",Adv. Mater.,19,3712- (2007)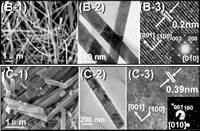 Mai, Liqiang; Guo, Wanli; Hu, Bin; Jin, Wei; Chen, Wen,"Fabrication and properties of VOx-based nanorods",J. Phys. Chem. C,112,423-429 (2008)
Wang, Nian; Chen, Wen; Mai, Liqiang; Dai, Ying,"Selected-control hydrothermal synthesis and formation mechanism of 1D ammonium vanadate",J. Solid State Chem.,181,652-657 (2008)
b .Material structure design: use of microwave-assisted rheological phase self-assembly, induced by ammonia evaporation technolog,electro-spinning, micro-emulsion-refluxing,topology substitued, CVD, electric field assisted synthesis methods, etc. We have synthesized vanadium oxide, molybdenum oxide complex layered nanowires and other structure.
Key paper:
Mai, Li-Qiang; Yang, Fan; Zhao, Yun-Long; Xu, Xu; Xu, Lin; Luo, Yan-Zhu,"Hierarchical MnMoO4/CoMoO4 heterostructured nanowires with enhanced supercapacitor performance",Nat. Commun.,2,381 (2011)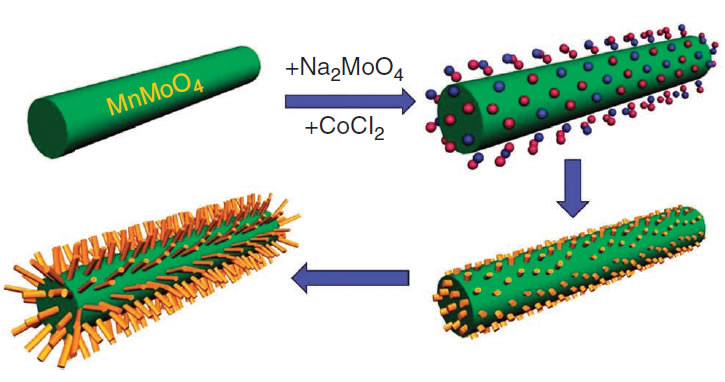 Mai, Liqiang; Xu, Xu; Han, Chunhua; Luo, Yanzhu; Xu, Lin; Wu, Yimin A.; Zhao, Yunlong, "Rational Synthesis of Silver Vanadium Oxides/Polyaniline Triaxial Nanowires with Enhanced Electrochemical Property",Nano Lett.,11,4992-4996 (2011)
Jiang, Xiaocheng; Tian, Bozhi; Xiang, Jie; Qian, Fang; Zheng, Gengfeng; Wang, Hongtao; Mai, Liqiang; Lieber, Charles M.,"Rational growth of branched nanowire heterostructures with synthetically encoded properties and function",PNAS.,108,12212-12216 (2011)
Hu, Bin; Mai, Liqiang; Chen, Wen; Yang, Fan,"From MoO3 Nanobelts to MoO2 Nanorods: Structure Transformation and Electrical Transport",Acs Nano,3,478-482 (2009)
Mai, Liqiang; Xu, Lin; Han, Chunhua; Xu, Xu; Luo, Yanzhu; Zhao, Shiyong; Zhao, Yunlong,"Electrospun Ultralong Hierarchical Vanadium Oxide Nanowires with High Performance for Lithium Ion Batteries",Nano Lett.,10,4750-4755 (2010)
Mai, Liqiang; Gu, Yanhui; Han, Chunhua; Hu, Bin; Chen, Wen; Zhang, Pengchao; Xu, Lin; Guo, Wanli; Dai, Ying,"Orientated Langmuir-Blodgett Assembly of VO2 Nanowires",Nano Lett.,9,826-830 (2009)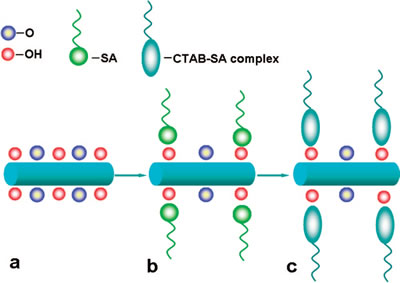 Zhou, Chiwei; Mai, Liqiang; Liu, Yueli; Qi, Yanyuan; Dai, Ying; Chen, Wen,"Synthesis and field emission property of V2O5 center dot nH(2)O nanotube arrays",J. Phys. Chem. C,111,8202-8205 (2007)
Mai, L. Q.; Hu, B.; Hu, T.; Chen, W.; Gu, E. D.,"Electrical property of Mo-doped VO2 nanowire array film by melting- quenching sol-gel method",J. Phys. Chem. B,110,19083-19086 (2006)